About KM Biztech.
We provide UX & UI design and consulting services. KM Biztech is a team of experienced design consultants, UI/UX designers, researchers, and design engineers. Over 8+ years, we gathered a great deal of experience in different types of digital solutions. As a UX/UI design agency, our experts apply proven approaches to design, prototyping, product validation and offer UI design services to create applications that users enjoy.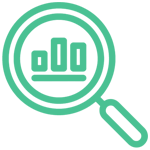 Increase conversion
We do invest hours of time to find out the right UX/UI designs for your business that can result in high conversion.

Engaging design
We offer business-oriented and engaging UX UI design services to promote your company on the right platforms.

Understand deeply
We take time to understand your goals, products or audiences. Then we create a unique UI UX design plan for your business.

Produce results
We craft end-user friendly UI/UX designs that your customers will love. So, you'll get more leads, sign ups, calls, and sales.